Summer Breaks in Salzburgerland
Hiking on Two Levels
Hiking at every level from gently-rolling hills around Altenmarkt to challenging-adventurous peaks around Zauchensee. The unique combination of the gentle, inviting routes around Altenmarkt and the more sportingly challenging tracks around Zauchensee make up the 48 km2 of the Atomic Vital-Park. It offers more than 20 diverse hiking routes around the Lackenkogel and Steinfeldspitz. Enjoy a break in one of the mountain huts where the farmers welcome you in and spoil you with regional delights.
Themed walks increase your appreciation of nature and Altenmarkt-Zauchensee invites you to take a enlightening walk with some fantastic scenary.
Mountain Biking
104 km of diverse mountain biking routes through the valleys or up to the peaks, to suit every level. Whether you ride a mountain bike to achieve sporting ambitions or for pure enjoyment, the province of Salzburg is a bikers' paradise. Whether you are a beginner, advanced or a biking pro, the Salzburg Sportwelt offers the right trails for bikers of all levels. All the marked cycle tours have one thing in common: you are always surrounded by the fascinating panorama of Salzburg's mountains. Along the marked trails you will reach alpine chalets, mountain lakes and great family holiday highlights.
Pleasure Cycling
Re-energise on a fun bike tour along the well sign-posted cycling network in and around Altenmarkt-Zauchensee. Do you want to be sporty and active, yet not get stressed out about it? Stock up on new energy cycling in the spacious and best signposted cycling network in the region of Altenmarkt-Zauchensee. From a relaxing cycling excursion over flat roads and low inclines, all the way through to a steep climb with a speedy downhill to finish over hill and dale; everyone will find a route to suit them here.
Nordic Walking
Welcome to the pioneer Nordic Walking region! From gentle to challenging with unbeatable views on 7 scientifically rated circuits. Truly enjoyable - Nordic Walking, both down in the valley and up in the mountains. There are nine different tours with varying levels of difficulty (2 easy, 1 intermediate, 4 difficult), each of which has also been evaluated from a sports-science perspective. You can choose between gentler tours in Altenmarkt, ranging from 842 m to 1,125 m above sea level, and scenic ones in Zauchensee between 1,330 and 1,750 m.
Horse Riding & Trekking
Join in a day-long or multi-day trail ride along 200 km of bridleways. Riding stables offer lessons for beginners, western, dressage and jumping. During your summer holidays in Austria you should not have to miss your equestrian sport. And there are plenty of opportunities for horseback riding in Salzburg. There are nearly 20 riding stables in the eight holiday resorts within the Salzburg Sportwelt - a clear indication that equestrian sports are almost as strongly rooted within the region as alpine skiing. But this is no surprise really as the enchanting landscape in the province of Salzburg is simply made for riding out.
Playful Golfing
From novice to pro - Altenmarkt-Zauchensee is only 9 holes away from the 18-hole golf course in Radstadt. Enjoy the views over the impressive mountain backdrop and the mediaeval town of Radstadt from the driving range, pitch and chip area as well as from each tee.
Summer Break places to go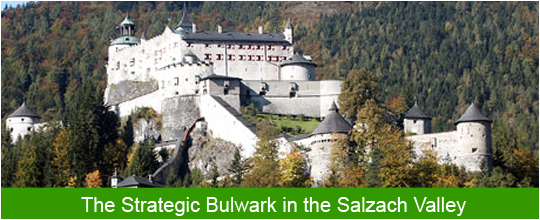 Hohenwerfen Fortress
The 900-year-old Hohenwerfen Fortress towers high above the Salzach Valley, between the Tennen and Hagen mountain ranges.
Bulwark dating from the 11th century
Adventurers and culture buffs will find exactly what they're looking for at Hohenwerfen: a variety of attractions including tours of the fortress, a weapons exhibit, a romantic castle tavern, a medieval shop and the historic Falconry Center with daily flight demonstrations, the first Austrian Falconry Museum as well as changing special exhibitions.
>>more info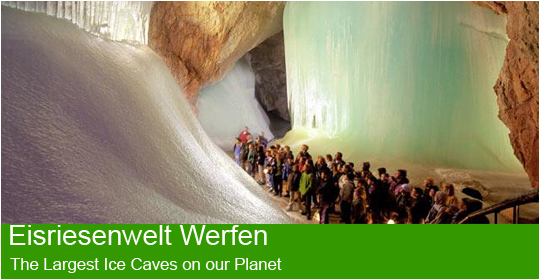 Eisriesenwelt Wefen
At the end of the nineteenth century the caves were only known to hunters and poachers. Not until 1879 did Anton Posselt, a natural scientist from Salzburg, 200 meters push into the darkness of the caves and officially "discover" the Ice Caves. One year later he published a detailed report of his discovery in a mountaineering magazine, but the caves then slipped back into obscurity.
>>more info
The Grossglockner
At 3.798 m the Grossglockner is not only the highest mountain in Austria, it also counts among the highest peaks in the Alps.
The pyramid-shaped Grossglockner lies behind the slightly smaller Kleinglockner (3.770 m), separated by a saddle-like formation known as the Glocknerscharte. The first ascent was in 1800 but victory and defeat accompanied other expeditions. The Pallavicini Trough is named after Alfred Margrave Pallavicini, who met his death on the Glockner in 1886.
>>more info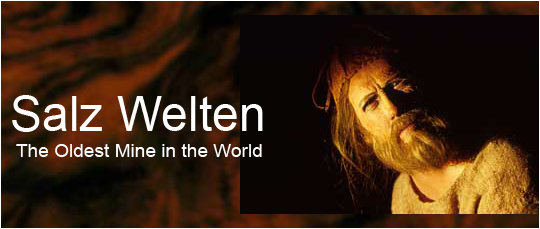 Salz Welten
We ride up on to the mountain in the panorama funicular to trace the mysterious power of attraction of this mystical area. The path leads to the tunnel mouth and into a unique underground world: many kilometres of tunnels, which people had once opened by hand more than 3,000 years ago, lead deep into the rockface interior.
>>more info
Therme Amade
New for October 2010 includes Spa and Swimming facilities, Sauna and Wellness and Looping Slide for Children and young people. An all day out experience for all the family.
>>more info